Associate Degree in
Associate Degree in Natural Resources-Park Management
Green River College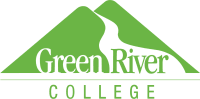 Scholarships
Explore scholarship opportunities to help fund your studies
Introduction
Green River Natural Resources degree options will prepare you for immediate employment in forestry, water quality, wildfire, and park management as applied to natural resources. You may also further your education at universities with natural resources programs.
Natural Resources technicians work outdoors on private, state, and federal forestlands. They gather information, direct and inspect the work of others and explain land management activities to the public. They assist professional foresters, biologists, and recreation managers. They utilize current technologies including Global Positioning Systems (GPS), laser measuring instruments, and current software in various applications.
Some of the technicians' tasks include:
Forestry: Reforest areas; estimate the volume and value of standing timber; mark timber for cutting; map boundaries of proposed timber sales; interpret aerial photos; use a compass and tape; record neat, well-organized field notes; inspect planting performance by contractors; collect field measurements of species and stocking of reforested areas; and check compliance of thinning, pruning and reforestation contractors
Water Quality: Monitor stream and lake systems for water quality and functions; identify plants and animals; streams and wetlands delineation; mapping locations of flora, fauna, and water features; apply environmental regulations regarding stream and wetland protection; perform stream and wetland typing
Wildland Fire: Complete tasks specific to an engine, aerial, or ground crew member; work as a team to protect people, property, and wildlands; implement preventative and reactive fire suppression techniques; conduct prescribed burns; follow the structure of the Incident Management System (IMS)
Park Management: Construct and maintain trails and campgrounds; perform ground maintenance tasks; register visitors and collect fees; explain and enforce park rules; interpret plant and animal ecology for the general public
Overview
This degree program prepares graduates to work in the state, private, county, municipal, and federal parks as assistant park rangers and in associated positions. Park management includes interpreting plant and animal ecology to the general public. Park rangers are responsible for constructing and maintaining trails, campgrounds, and facilities. They collect fees, explain and enforce park rules, and promote public safety.
Great Opportunities
Associate of Applied Science, Bachelor of Applied Science, and beyond!
When you earn your Associate of Applied Science (A.A.S.) in our program, you can qualify to join our four-year Forest Resource Management, Bachelor of Applied Science (B.A.S.) program, transfer to another institution, or begin working in the industry! Meet with your adviser to be sure you have the correct course plan.
Completing the Green River's Forest Resource Management, B.A.S. will open opportunities for immediate employment in management positions in the natural resources field or continue your education with a graduate degree!