Associate Degree in
Associate Degree in Media Ministry
Hartland College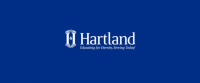 Scholarships
Explore scholarship opportunities to help fund your studies
Introduction
This major aims to prepare workers with the ability to develop media-compatible content in harmony with the proclamation of the everlasting gospel, deliver that content through various media options, and manage the operations of a media ministry.
While at Hartland, students will be exposed to a variety of media skills, including the preparation and illustration of print media for pre-press systems; the adaptation of print media to a web or PowerPoint presentations; the development of web sites; the planning, filming, and editing of videos, including scriptwriting for video documentaries, ministry promotional, and mission field reports, as well as experience with live audio and video recording and subsequent editing. Lab instruction will expose students to industry-standard technology and software applications. Lab assignments will emphasize real media projects where students will apply concepts learned in the classroom.
Additional opportunities for learning media skills exist in a variety of VOTR assignments.
During classroom instruction, students will be exposed to concepts that develop creativity, critical thinking, and problem-solving skills in the area of media product development, production, financial analysis and planning, marketing, team building, technology acquisition, and funding for capital projects. Opportunities for specialization within the media field exist during the 16-hour weekly practical training program and during summer and winter practical training programs and the required internship.
Individuals desiring to major in this area must make a formal application to the Christian Media Department after completing their freshman year. To be admitted to the Christian Media Ministry major, the student must have a minimum GPA of 2.5, proficiency in written and spoken English, adequate competency in mathematical and computer skills, and completed reading requirements. The student must also show emotional stability, physical health, responsible time management, spiritual maturity, and a commitment to God and the media ministry.