Certificate in
certificate in Basic Maritime Training : Ship's assistant
Martec - Maritime And Polytechnic College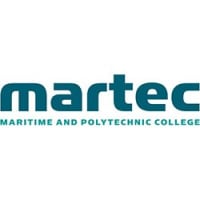 Introduction
The training to become an ordinary seaman consists of the voyage onboard the Training Ship DANMARK and craftsmanship workshop training ashore at MARTEC in Frederikshavn, Denmark.
An ordinary seaman has to undertake all kinds of work on a ship, on the deck as well as in the engine department, and a seaman has to be multi-faceted, and the better he is at work as a responsible member of a team, the better he will adapt to the changing and challenging tasks at sea.
The training changes between practical work on the vessel, classes in technical subjects, working safety and - environment, firefighting, navigation and rules of the road, practical seamanship, marine technology, safety at sea, first aid, maintenance, etc.
After completing the training and 12 months of seagoing service, the path is cleared to apply to a navigation school or 20 weeks finishing course at MARTEC that brings a certificate as an able-bodied seaman.
The basic maritime training objective is to give persons seeking an occupation within the maritime sector a grounding in theoretical and practical specialist training that enables them to carry out future practical work within the deck and engine department in a safety-conscious manner. Upon completing the basic maritime training, the student will become either a ship's assistant (Able Seaman) or a ship's deck officer (Master – home trade).
MARTEC operates in principle for the sake of the customers and perceives itself as a maritime training centre that works at a local, regional, national, and international level.
The study program is the school's basis for the aims and level of the instruction, including the teaching principles the school requires, and shall form the basis for all instruction and the school's work and approach to the students' participation, democratic rights, and work in democratic bodies.
The seagoing service consists of an introductory period and a practical training period as a ship's assistant. Each period shall include at least six months of effective seagoing service. During the introductory period, students must undergo navigational watch-keeping under the supervision of a qualified officer in order to attain the certificate of watch-keeping
Learning outcomes:
Knowledge: Shall know basic methods and norms within a professional or specialist area;
Shall have an understanding of their abilities to influence the labour market and society.
Skills:
Shall be able to carry out practical work assignments within the subject/profession;
Shall be able to solve technical problems;
Shall be able to search for and assess the information of relevance to a practical assignment within a subject or profession;
Shall be able to use technical terminology in communication with colleagues, fellow students, and users.
Competencies:
Shall be able to take responsibility for limited work processes:
Shall be able to enter into an interdisciplinary collaboration on practical work within a profession or subject;
Shall be able to enter actively into learning situations within a professional or specialist area.