Associate of Science in
Online Associate of Science in Ministry degree
Welch College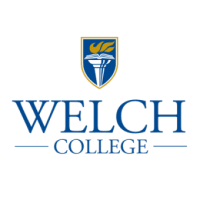 Scholarships
Explore scholarship opportunities to help fund your studies
Introduction
Online A.S. in Ministry
This program is intended to provide quality, basic preparation for local church ministry. The primary purpose for offering this program is to support and enhance the Christian ministries of bi-vocational pastors and volunteer lay workers in the local church. It is intended for Christian adults age 23 and older. The Associate of Science in Ministry is not considered full professional preparation for a full-time ministry. Those who definitely plan to be pastors are advised to pursue a bachelor's degree in Biblical and Ministry studies. The Associate of Science in Ministry degree is designed to be earned entirely online. In addition to meeting the specific objectives stated elsewhere for the major in Biblical Studies and for the General Education core, the graduate should be able to:
Apply and demonstrate Biblical principles of thought and life in consistent Christian witness
Serve and minister effectively in a variety of local church responsibilities
Support and extend the ministry of the local church in the community
Requirements
63 hours, with a 2.0 g.p.a. in all segments of the degree noted below.
*The Online Orientation course is a one week prerequisite course that MUST be taken in advance of enrollment in any other courses in the A.S. in Ministry degree. Sample Core Courses BIB 1100. INTRODUCTION TO BIBLICAL STUDIES – Provides a basic introduction to principles foundational for Biblical study. The course examines the doctrines of inspiration and canon and discusses principles of Biblical interpretation as well as transmission and translation of the Biblical text. It also provides necessary Biblical background information for the student including geography, chronology, history, culture, and doctrinal development. BIB 1250. EVANGELISM AND DISCIPLESHIP – A Biblical study of the basics of the Christian life, designed to help students understand what it means to be Christ's disciple, with primary attention given to such things as authenticity, cost, and the rewards of discipleship. Substantial time is spent discussing the methods, message, and means of personal evangelism, including the memorization of useful Biblical passages and attention to typical errors and difficulties faced by soul-winners. Other key topics include the disciple's conversion, spirituality, worship, integrity, speech, thought life, stewardship, and witness. MIN 2336. CHURCH GROWTH: THEORY AND PRACTICE – Emphasizes the history and theoretical foundations for church growth and the Church Growth Movement. Attention is given to the pastor's role in church growth. A broad, flexible, and multifaceted plan for growth designed to fit a wide range of church settings is presented. MIN 3111, 3122. HOMILETICS – Developing skill in the preparation and preaching of effective Biblical sermons. First semester is devoted to understanding and mastering the fundamental principles of sermon building. Second semester is a preaching laboratory where these principles are applied in the actual preparation and preaching of sermons. NOTE: Online courses are designed for non-traditional, adult students. This means that applicants must be at least 23 years old. Underage students may submit a written appeal for an exception to take online courses. Appeals are based on extenuating circumstances such as health-related problems (the student or a family member for whom the student is caretaker), physical disabilities that preclude traditional enrollment, or military service obligations that prevent traditional enrollment. Appeals that are granted for such reasons may result in the student being permitted to enroll in one or two courses and a periodic evaluation of progress. Written appeals should be submitted to the Provost at [email protected] or by U.S. Mail to: Provost Welch College 3606 West End Avenue Nashville, TN 37205
| | |
| --- | --- |
| THEOLOGICAL STUDIES | 37 HOURS |
| BIB 1100 Introduction to Biblical Studies | 2 |
| BIB 1250 Evangelism & Discipleship | 2 |
| BIB 1011 OT Survey: Law and History | 3 |
| BIB 1031 NT Survey: Epistles & Revelation | 3 |
| BIB 2032 OT Survey: Poetry & Prophecy | 2 |
| BIB 2062 NT Survey: Gospel & Acts | 2 |
| BIB 2601 Biblical Interpretation | 3 |
| THE 3602 Bible Doctrines | 3 |
| MIN 2336 Church Growth: Theory & Practice | 3 |
| SSC 3101 Marriage & the Family | 3 |
| ICS 1102 Biblical Basis of Missions | 2 |
| MIN 1011 Local Church & World Missions | 2 |
| MIN 3011 Christian Ministry | 3 |
| MIN 3111 Homiletics | 2 |
| YFM 1003 Philosophy of Youth & Family Ministry | 2 |
| GENERAL EDUCATION | 26 HOURS |
| ENG 1011 Basic English Grammar, Usage, & Intro to Composition I | 3 |
| ENG 1011 Basic English Grammar, Usage, & Intro to Composition II | 3 |
| SPE 1000 Introduction to Speech | 3 |
| IDS 1001 Leadership and Calling: Personal Development | 2 |
| IDS 1001 Leadership and Calling: Leadership Principles | 2 |
| IDS 1902 Christianity, Culture and Worldview | 2 |
| MAT 1101 College Algebra | 3 |
| HIS 1011 History of Western Civilization | 3 |
| MUS 1002 Introduction to Music and Appreciation | 3 |
| PHE 2100 Lifetime Fitness | 2 |
| SSC 1000 Online Orientation* | Pre-Requisite Audit |