Welcome to the Martinair Flight Academy
The Martinair Flight Academy originated 40 years ago and is part of the AIR FRANCE / KLM Group. The academy is the oldest in the Netherlands that runs all practical flight instruction from a Dutch aerodrome. Therefore we use a modern and young fleet that has its home base at Lelystad Airport. This intensive integrated training course takes about 24 months and starts 3 times per year. The theory is given by using a Computer Based Training system and is fully integrated with the practical flying lessons. This means that the theory is alternating with practical flying lessons, at this moment the theory can be applied directly into practice. Monthly there is an orientation day at the flight academy, here you get all the information you need and to explore and understand the Martinair Flight Academy. The selection can start anytime and can be completed in approximately 3 weeks. Martinair Flight Academy is proud to announce the alliance with two other companies, Trener Kft and FSC. The new company that is formed is called Central European Flight Academy, CEFA. After a thorough evaluation, Central European Flight Academy has been selected by Wizz Air as a partner for unique Mentored Pilot Training Programme.
Why Martinair Flight Academy?

It is important to feel comfortable with the way of education which 'your' school offers you. One of the most important reasons to choose for the Martinair Flight Academy is its small scale. A maximum of 36 students starts their ATPL training each year and classes do not exceed the number of 12 students. This results in a very personal approach in which the individual is central. At the Martinair Flight Academy, actual flying starts after only four weeks of ground school training. Your first solo flight takes place approximately two months after starting your flight training. This means that theory is combined with practical flight training during the first year. In the second year, actual flying with the young and modern fleet is emphasized. In the first year, the entire ATPL theory will be treated by using CBT (Computer Based Training), which is supported by regular all round theory teachers, who may give flight instruction themselves and are easily able to link theory and practice. In this year you will also obtain your first license, the Private Pilot License. This allows you to fly the required number of hours for the ATPL navigation with a fellow student, so you gain a lot of experience together. Also, you can perform flights to more remote foreign aerodromes because together you have double the number of hours available. Unlike some other flights schools, the complete flight training at the Martinair Flight Academy will perform in one location, in our case, this is Lelystad Airport.
Future Prospects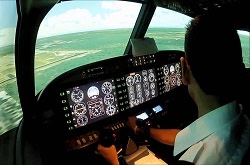 Martinair Flight Academy is a full subsidiary of Martinair Holland N.V. Martinair Holland N.V. is owned by KLM, so de MFA is also part of the AIR FRANCE / KLM Group. This means that if the companies within this group, such as KLM, Transavia, and Martinair, need pilots they will recruit their flight schools. Concretely, it means that the KLM Flight Academy provides the KLM and Martinair Flight Academy is a "preferred supplier" for Transavia and Martinair Holland. If the KLM Flight Academy cannot supply enough pilots to KLM, student-pilots of the Martinair Flight Academy will be assumed. Our students fly with different airlines, within and outside Europe. Among those airlines, you will find national and flag carriers, regional carriers and business operators. Students, who are still waiting for a job, will be held to the standard by the Martinair Flight Academy by the so-called recurrent training. These monthly training sessions are provided by a team of airline captains, who have earned their traces in leadership positions in commercial aviation (MD-11, B767, B747).
Locations
Lelystad
Martinair Flight Academy
Address
Emoeweg 4,
8218 PC Lelystad.
The Netherlands
8218 PC
Lelystad
,
Flevoland
,
Netherlands